You can now shave and care for your skin the right way with our shaving cream and moisturising shave serum duo. Our shaving cream will give you the perfect shave, followed by our moisturising shave serum which will take care of your skin. Taking care of your skin is taking care of your look and wellbeing.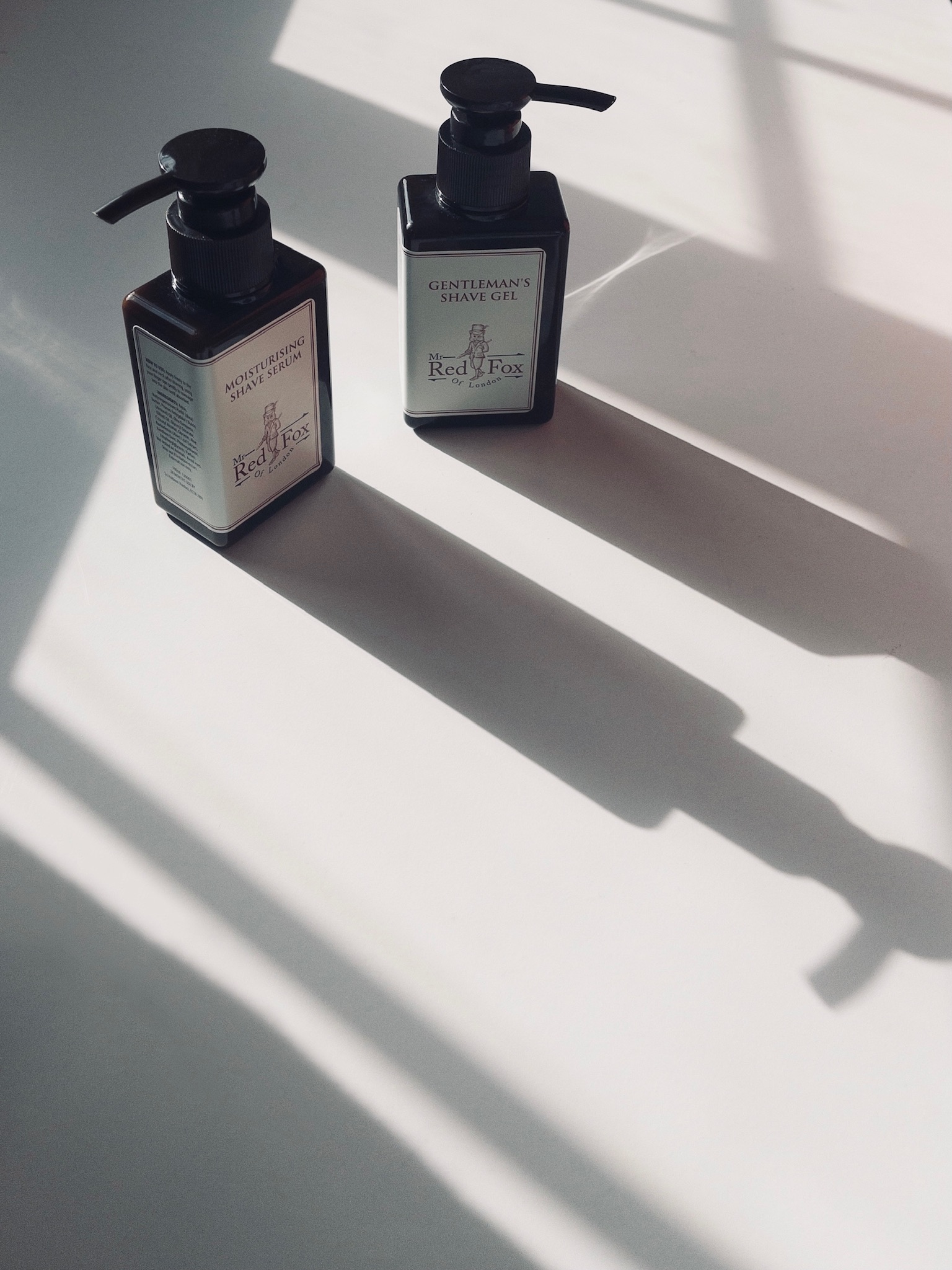 Gentleman's Shave Gel
Description
Our Mr Red Fox Of London Gentleman's Shave Gel allows for precision shaving and combines the latest features in science so that you can see clearly when shaving, allowing you pin-point accuracy.
You can show off your goatee and moustache without suffering from irritation, dermatitis, dandruff or itching.
Size
100ml
How to use it?
Dampen skin, apply gel generously and you're ready to shave.
Ingredients: MADE IN ENGLAND
This product is Fungal Acne Safe, Paraben-Free, Alcohol-Free, Silicone-Free, ensuring our usual standards of quality and safety.
Contains Acne Fighting & Anti Oxidant Melaleuca Alternifolia (Tea Tree) Leaf Oil. Contains Anti Ageing Citric Acid. UV Protective ingredients. Suitable for dry skin.
Aqua, Glycerin, Aloe Barbadensis (Leaf) Extract, Sodium Laureth Sulfate, Acrylates/C10-30 Alkyl Acrylate Crosspolymer, Cocamidopropyl Betaine, Triethanolamine, Eucalyptus Globulus (Leaf) Oil, Melaleuca Alternifolia (TeeTree) Leaf Oil, Mentha Piperita (Peppermint) leaf oil, Benzophenone-4, Triethylene Glycol, Benzyl Alcohol, Propylene Glycol, Methylchloroisothiazolinone, Sodium Chloride, Sodium Hydroxide, Magnesium Nitrate, Magnesium Chloride, Potassium Sorbate, Citric Acid, CI 60730, CI 42090.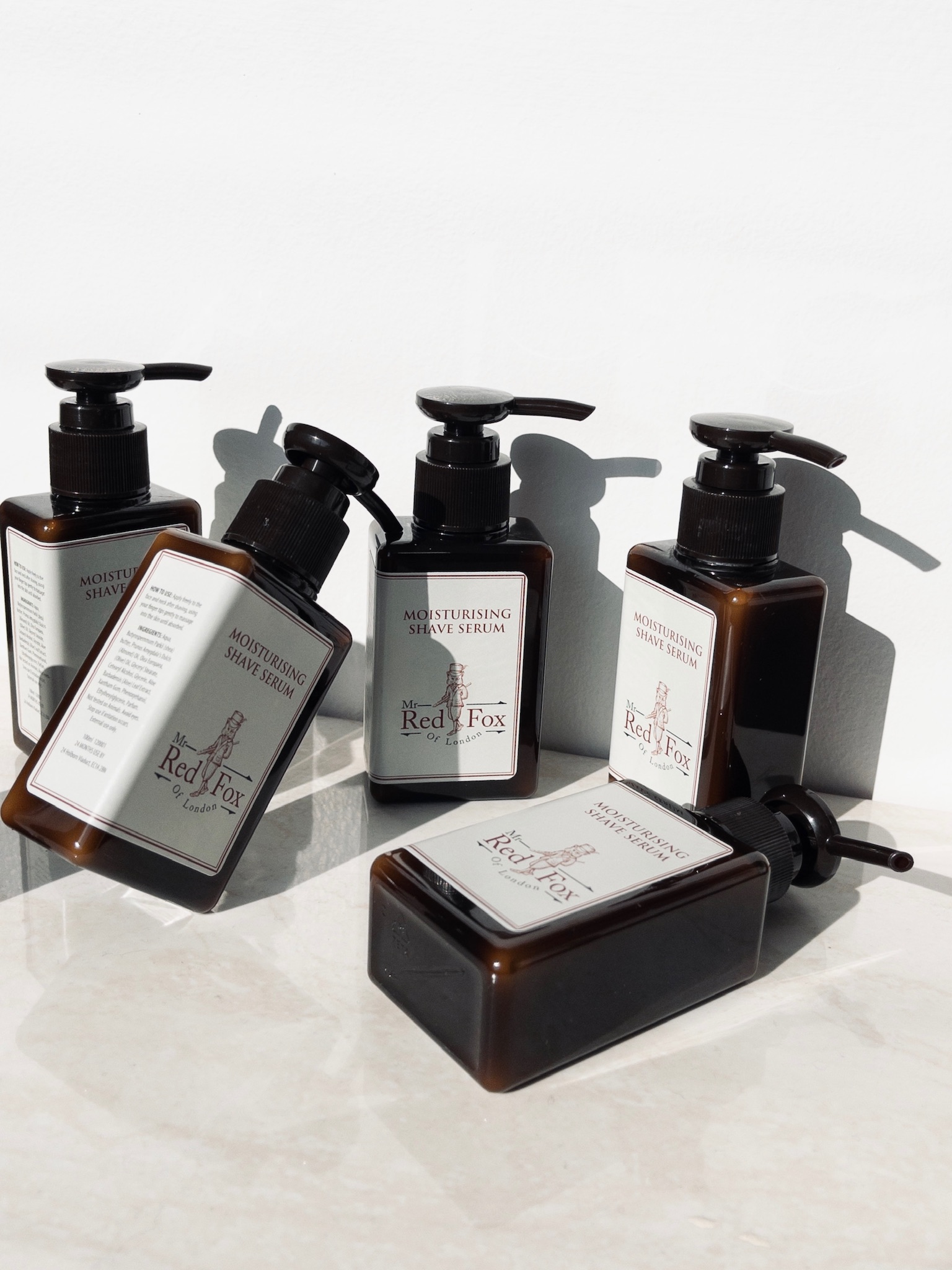 Moisturising Shave Serum
Description
Our Moisturising Shave Serum is a new concept of hydration and skincare in the same formula. Soothe your skin, reduce redness, razor burn and heal any painful nicks and cuts after your shave. Taking care of your skin is taking care of your look and wellbeing.
Being very concentrated and powerful, with minimum application, you can enjoy all its benefits, without leaving a greasy feeling. It is very easily absorbed and leaves no odour.
Size
100ml
How to use it?
After Shaving.
After you have shaved and washed your face, apply Our Moisturising Serum using clean hands. Apply at night for the best results.
Ingredients: MADE IN ENGLAND
Paraben-Free, Sulfate-Free, Silicone-Free, EU Allergen Free and Alcohol-Free. Suitable for Dry Skin, Contains Aloe Barbadensis Leaf Extract which is great for sensitive skin.
Aqua, Butyrospermum Parkii (Shea) Butter, Prunus Amygdalus Dulcis (Almond) Oil, Olea Europaea (Olive) Oil, Glyceryl Stearate, Cetearyl Alcohol, Glycerin, Aloe Barbadensis (Aloe) Leaf Extract, Xantham Gum, Phenoxyethanol, Ethylhexylglycerin, Parfum.
See shipping Options