What to Look for When Buying a Suit
Choosing a suit can be a daunting task. They come in an infinite variety of shapes, sizes, colours, patterns, styles, and fits, and, of course, there are fashions and prevailing trends to consider. Please find our quick and easy guide to acquiring the right apparel investment for you in the name of demystifying the process.
A measuring tape is required for two types of suits: bespoke and made-to-measure. Bespoke is derived from the verb bespeak, which roughly translates as "to give an order for it to be made." A bespoke suit is custom-made to the owner's exact measurements. A completely new pattern must be created, which is a time-consuming and thus costly process. Although technically anyone can present at a men's tailor, Cate Blanchett looks far more dashing in a well-cut masculine suit than any man could possibly dream of.
A made-to-measure suit, on the other hand, is created by combining an existing pattern with the customer's specific measurements. Adjustments to the pattern are usually required; it is rare that any individual's measurements will match exactly to a pre-made pattern, but this is a less onerous task than starting the construction process from scratch. Both made-to-measure and bespoke garments will typically require a second and even third fitting to ensure proper sizing.
This is critical because the idea behind any measured suit is that the cut should be unlike anything you can buy ready-made. The fit should be flawless, and you should not settle for anything less.
The third type of suit is one that is purchased ready-made or off-the-rack. Again, unless you are lucky enough to be a standard size, it is very rare that something already made would fit any body perfectly, so alterations are usually required to a garment purchased in this manner. Alterations can be costly, and this must be factored in when purchasing a ready-made suit. Buying off the rack will also limit your options for customising your purchase, but if something fits well and meets your criteria, go for it.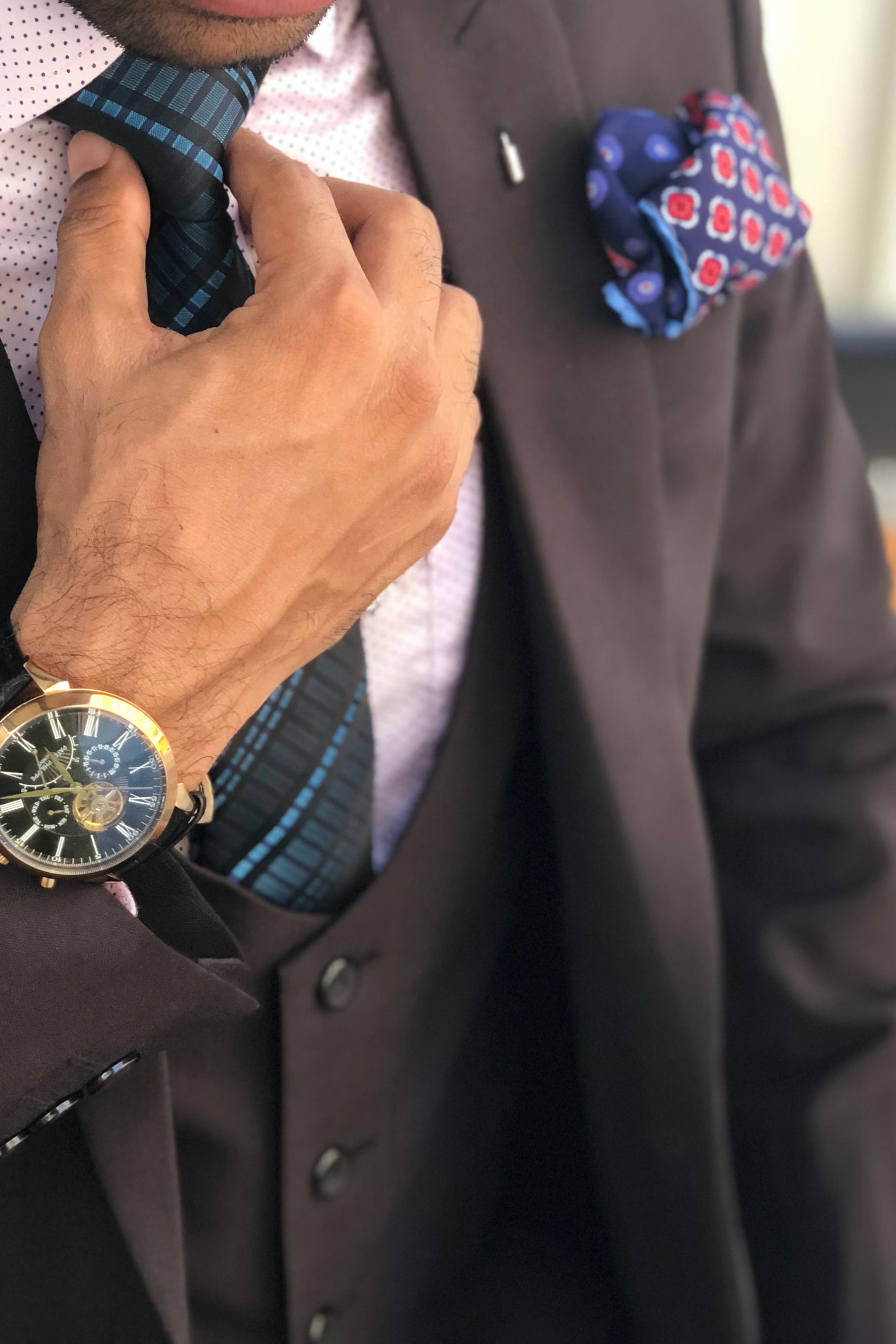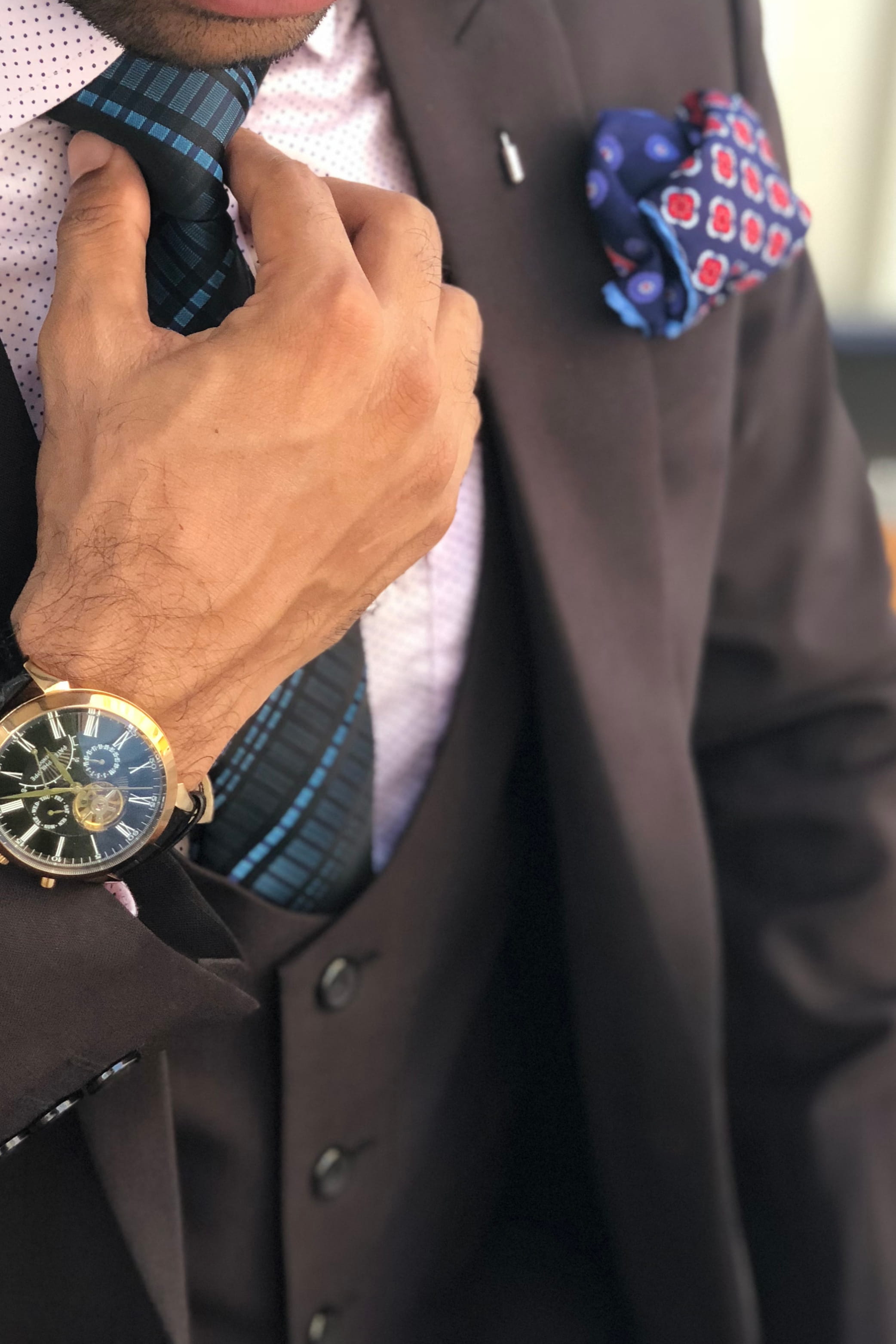 Suits are classified into three types: formal, semi-formal, and informal.
Casual: Any suit that does not fit into one of the preceding categories is probably best described as casual. It's a more casual piece that can be worn to the races, an afternoon wedding, or a slightly dressy party. It can be almost any pattern or colour, with bright red suits currently stealing the show on the A-list circuit. A casual suit gives the wearer more freedom to express himself. It can be layered, dressed down with jeans, and paired with a variety of footwear. Pefect Scent to wear wiith this - Summer Breeze Eau de Parfum
Formal: A tuxedo in black or a very dark blue colour, worn with a white shirt, a bow tie, and patent leather shoes. Unless you are a doyen of the ballet/opera, a tuxedo would normally only be seen a few times a year. Pefect Scent to wear wiith this - Gentleman Eau de Parfum
Business: Typically a monochromatic colour and conservatively cut garment that can be worn comfortably in a professional setting without raising too many eyebrows. A business suit fabric may have a light check or stripe, but it is generally quite understated in order to avoid appearing too flashy. The garment is intended to convey dependability and trustworthiness. Pefect Scent to wear wiith this - Balanced Eau de Parfum
Those working in creative fields can usually get away with wearing a casual suit to work, allowing them to avoid the traditional blues and greys of the business suit. A casual suit jacket paired with smart, dark blue denim jeans, a business shirt, and dress shoes has become increasingly acceptable workplace attire, allowing the wearer to present professionally while also adding a signature twist to his ensemble. Another way to create a unique look is to include a colourful pocket square. Silicon Valley types, for example, are rarely seen in a standard business suit and tie these days, preferring the jeans and jacket look, often paired with casual white leather shoes to demonstrate age defying hipness.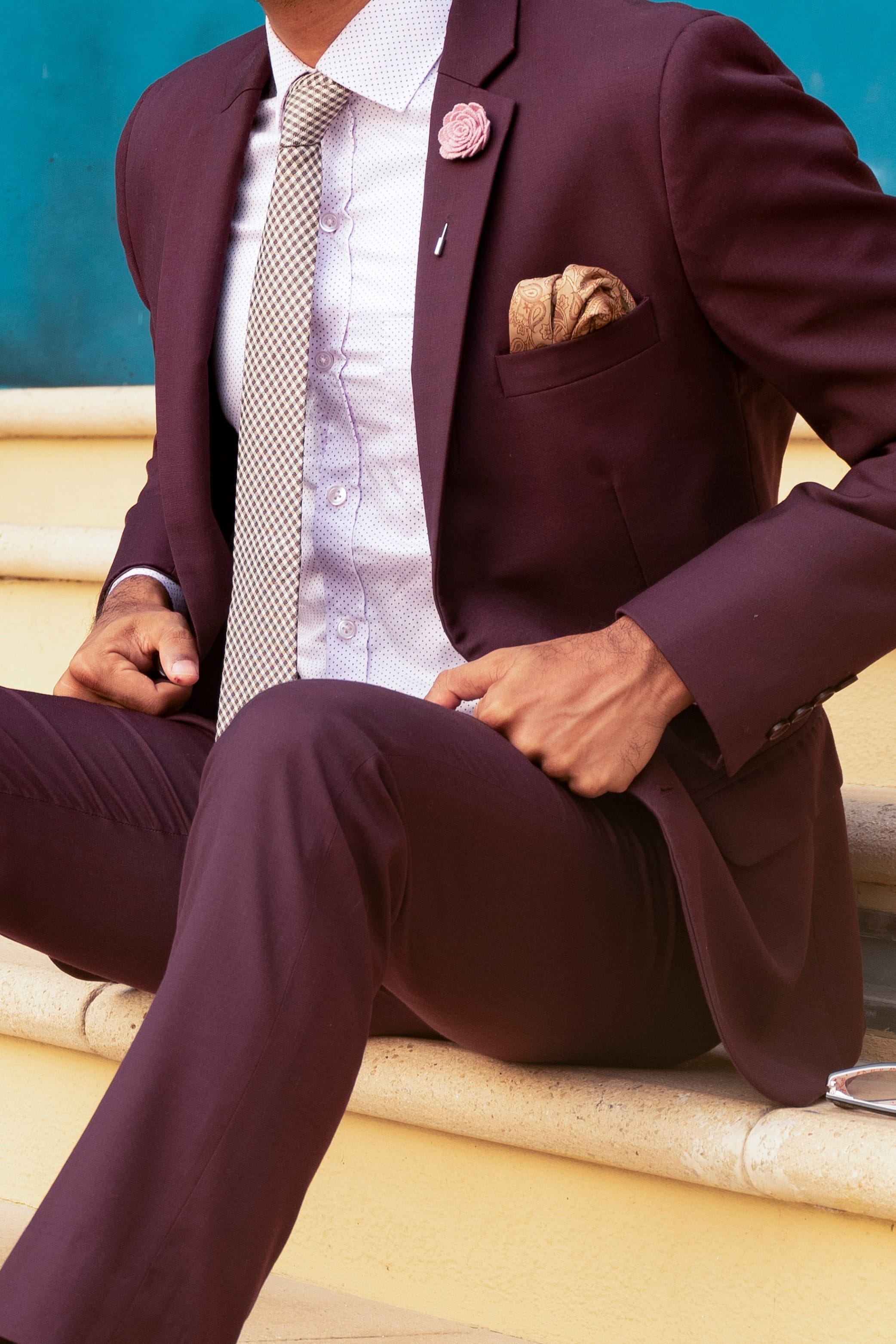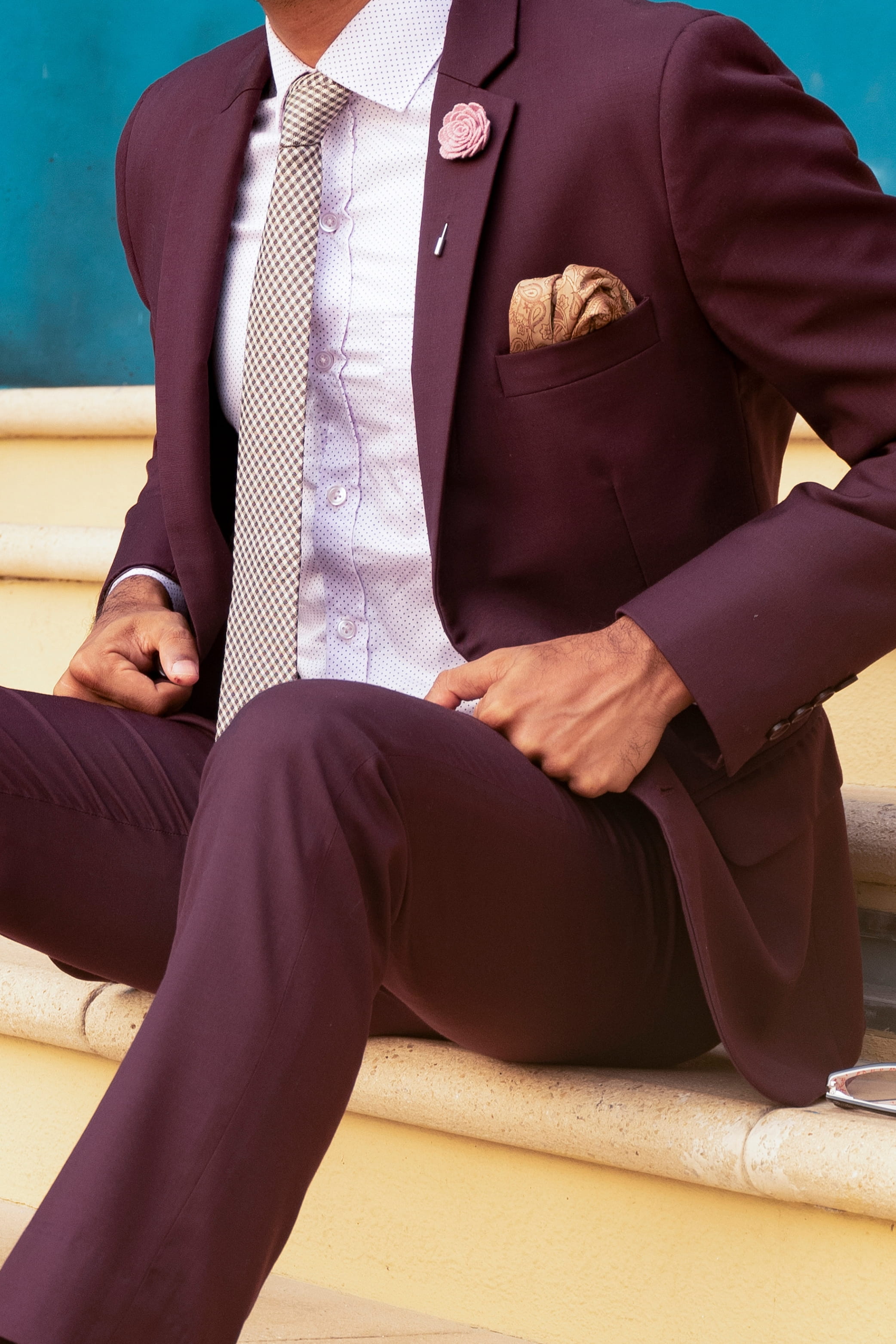 The fit is critical.
Sleeves
The line where your wrist meets your hand should be touched by your shirt sleeve. The sleeve of your jacket should now hang about 2 or 3cm shorter, allowing the shirt to peek out. A jacket sleeve that is too long will make the wearer look like a gorilla, while a jacket sleeve that is too short will make the wearer look terrible.
Shoulders
A suit jacket should fit snugly around your shoulders. Too-wide jackets don't make you look bigger; they make you look like you raided your big brother's closet. If you wear it too narrow, you will appear squished in and will be selling your stature short.
Lapel
When it comes to lapel width, there are no hard and fast rules, but a narrow lapel (about 5cm) is generally preferable for a single breasted suit and a slim wearer, while a wider lapel can be accommodated on a larger frame and/or double breasted suit. Unless you're attending a Boogie Nights themed party in a 1970's style safari suit—always a fun night—avoid going too wide.
Buttons
When it comes to buttoning up your three-buttoned jacket, the rule is: sometimes, always, never. Always, never wear a two-button jacket. When higher options are available, the bottom button is always left open. When the buttons are fastened, you should be able to easily slide your hand behind your jacket.
Leg
When standing barefoot, your trouser leg should be about 1cm above the floor at the back. Pants that are too long will bunch and will not sit properly, while pants that are too short will make the wearer appear to have recently gained some unwanted girth.
Waist
A suit tailored to your measurements will not require a belt. If you must wear a belt, it should be the same colour as your shoes. A tight-fitting belt will distort the overall shape of a suit and should be avoided at all costs.
Continue reading